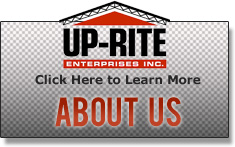 • Office Buildings
• Strip Malls
• Retail Stores
• Restaurants
• Municipal Buildings
• Apartment Complexes
• Gyms
• Medical Buildings
• and much more!





Commercial and retail facilities come in all shapes and sizes and many times bring with them accessory buildings such as canopies, carwashes, storage buildings, walk-in coolers, and anything else you might imagine. At Up-Rite Enterprises, our Commercial Construction Division can accommodate your every need, so your business can function at maximum capacity.


We have the expertise to identify your construction service requirements and provide multiple options. This process allows for the efficient purchase of materials and equipment, which in turn provides for the successful completion of your project on time and within budget.

352-472-1223 to schedule a consultation with our professionals at Up-Rite Enterprises.
Up-Rite Enterprises, Inc. proudly serves the state of Florida, including in and around the communities of:
Gainesville, Ocala, Brevard, Tampa, Fort Lauderdale, Orlando, Naples, Lakeland, Miami, Fort Myers, Sarasota, Jacksonville and Mims.